The theft of a non-encrypted laptop belonging to a staff member of California Correctional Health Care Services may have exposed the protected health information (PHI) of up to 400,000 patients who served time in California prisons during an 18-year period
Listed below are the DHHS's five largest heathcare data breaches this year.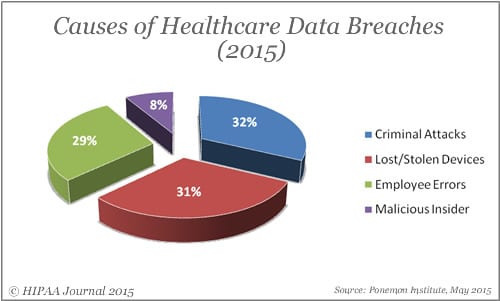 California Correctional Health Care Services (CCHCS), which provides medical services to approximately 128,000 inmates in 35 institutions in California, released a statement on May 16 reporting a potential breach of patient health information.
In the U.S. Department of Health and Human Services, Office for Civil Rights, Breach Portal, also known as the Wall of Shame, the incident was posted May 15 and indicates that the breach may have affected up to 400,000 individuals.
The largest breach reported this year so far is
21st Century Oncology, which reported a breach in March affecting 2.2 million people due to a hacking/IT incident on its network server.
The second largest breach so far this year was reported by Radiology Regional Center, which affected 483,000 people, due to a loss of paper and films.
Followed by the CCHCS breach, there also was
Premier Healthcare, which reported an incident affecting 205,700 people due to a stolen laptop.
And, the fifth largest breach so far was reported by Community Mercy Health Partners in Ohio, which reported an incident involving the improper disposal of paper/films potentially affecting 113,000 people.