Let's Get Personal
Here's where I share more personal insights, observations and articles on the topics of my faith, my family, and of course all things fun!
MATRIC 2008 Annual Report
  [pdf, 1.5MB]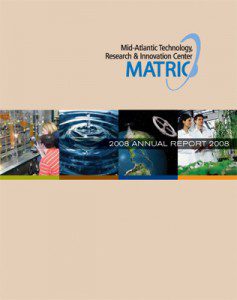 The Mid-Atlantic Technology, Research and Innovation Center (MATRIC) is an independent, nonprofit, 501(c)(3) corporation headquartered in West Virginia. World-class scientists in the areas of chemical and environmental technologies, health and life sciences, and advanced engineering systems partner with higher education, industry, and government to conduct life-changing research and development and to commercialize resulting products and services. With superior leadership from a quality professional management team, a committed board of directors, and an outstanding technical staff, MATRIC is well positioned to make an impact locally, nationally, and internationally.