Overall I'm very pleased. As soon as the post was published on my WordPress site, the article was crossposted to my social networks almost instantly. The representation of the post on different social networks was more than adequate for most general business needs. The setup and configuration of the Jetpack publicize plug-in took less than five minutes.
Post Publishing Settings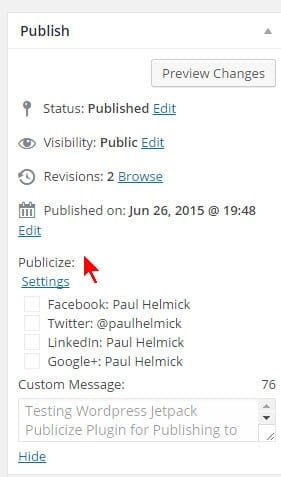 Here are the results for each social network.
Facebook
I found the plug-ins publishing did Facebook to be the least satisfying of the three networks. I'm of the opinion that most of my Facebook posts should be photos that contain the title text and the first sentence or two of the post as well as a link back to the original article versus article shares that only show small thumbnail of the image. It might be possible to use publicize for Twitter and LinkedIn and find another plug-in that would do a good photo share to Facebook. In the past I know the "if this then that" service (IFTTT) has done a good job that. But I always prefer to find a single tool that can do this job rather than having clients juggle several different services/tools.
UPDATE (1): it's interesting that in this second post Facebook actually included an image in the post. I suspect it's because a) the screenshots below are rather large and b) the open graph information that the jet pack plug-in inserted in the post triggered it to be a photo post, which is exceptional. I will explore more and see what actually led to being triggered this way because that would prove extremely useful and would allow you rely on Jetpack publicize for the bulk of your social sharing.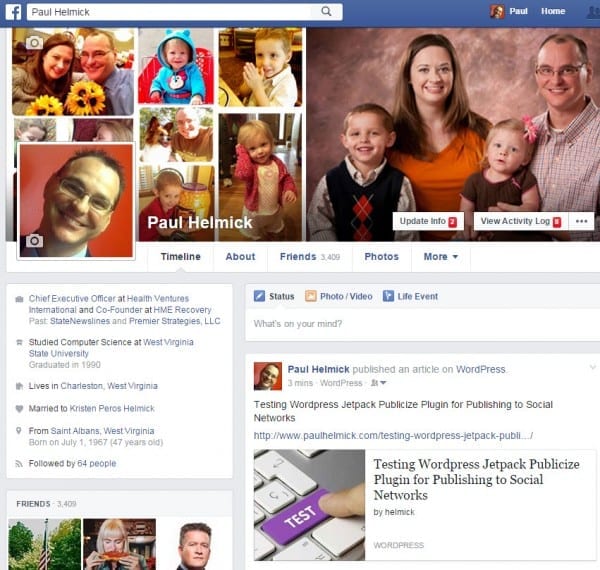 Twitter
Very good job with Twitter. I think I can associate my bit.ly link shortening account with the plug-in. The big added bonus here was actually uploaded the photograph to twitter as a photo post giving you the very best presentation and highest impact because it included the media attachment. I'd like to understand if I could get the category of the post to write along as a hashtag on Tweet. That's something the WP-Buffer plug-in does that I find viable to increasing the exposure of your posts.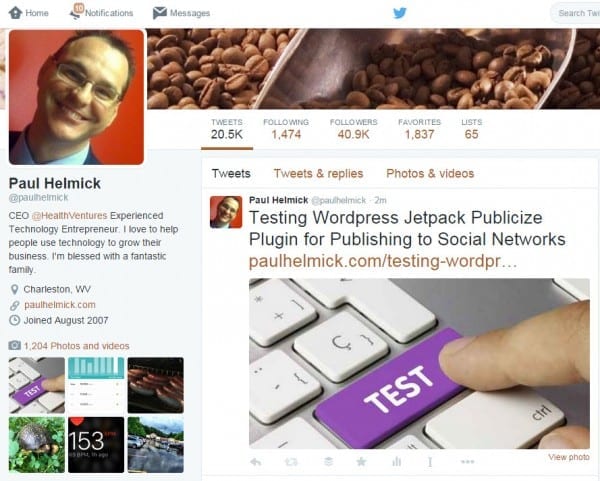 LinkedIn
This is as good as it gets for LinkedIn. Straightforward, clean and simple.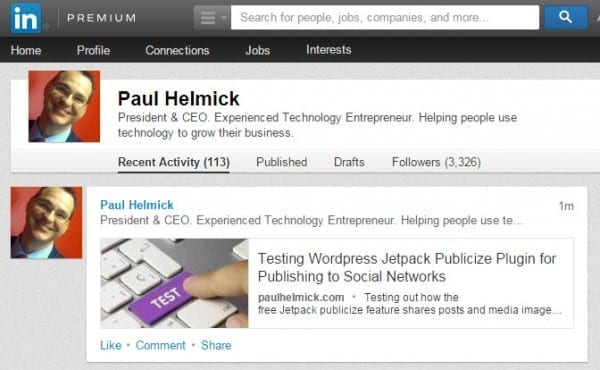 Mobile IOS publishing
I would also be interested to understand how this plug-in gets triggered when you create and publish a post from the WordPress iOS application on your iPhone. I'll test that out later and report.