Type in any sub-title to zoom in / drill down – very hot!!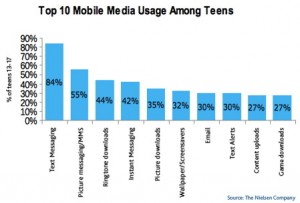 Teen usage of mobile phones focuses heavily on texting, both sending and receiving. In Q2 2009, the top-ranked mobile activity for teens was messaging, with 84 percent of teens sending a text message and 55 percent of teens sending a picture message.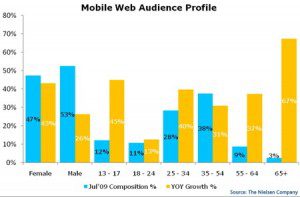 Web visitors using a mobile device increased 34 percent year-over-year, to 56.9 million in July 2009 from 42.5 million in July 2008, according to Nielsen.
Overall, year-over-year growth among the 13-17 and 65+ age groups outpaced the growth of the total mobile Web audience, with a youth increase of 45 percent and seniors surging upwards 67 percent in July.