Content is king – creating informative, educational or emotional content for your audience is key
Here are the 6 biggest trends that developed in 2015.
We've shared questions for marketers to ask themselves for each trend.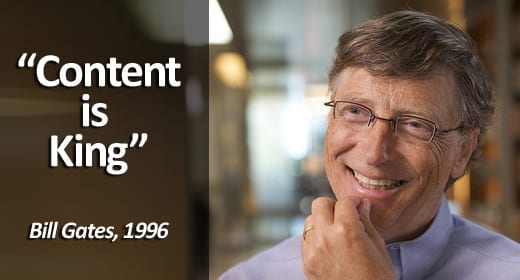 1. The rise of influencers
Are you connecting your content with others who influence your clients's thinking?
2. Even more user-generated content
Have you tapped into the experience and knowledge of your audience to create content?
3. The growth of native advertising
Do you even know what native advertising is? Have you tested it at all?
4. A stronger focus on distribution
50% of effort should be for content creation.
50% of effort should be for content distribution and promotion
5. Increasing link between content and social
Do you share, listen, respond, engage and actively grow your social communities?
Do you measure that week to week?
Do you participate in any external forums or groups where you can give and share – and be viewed as a thought leader?
6. Content becoming more mobile-friendly
50% of people will only see your info on their phone?
Do you regularly look at your own content on your phone to see how it looks?
7. Use of schema increasing and improving
Schema means search engines index content differently depending on what it is (weather, directions, hours of operation, menus, sports scores, etc)
Have you identified any key schema that relate to you or your competitors search listings and taken advantage of them?
Via Econsultancy