This gospel tract, lays out so very clearly the personal invitation God has for you.
I pray that it might touch your heart and change your life forever.  In Christ, your friend ~ Paul
Will you receive Jesus Christ as your Lord and Savior today?
TO DO SO YOU MUST…
Admit that you have sinned against God and ask Him for forgiveness.
Believe that the Lord Jesus Christ is the Son of God Who died for you on the cross, rose from the dead, and is Lord.
Call upon Jesus Christ to be your Lord and Savior.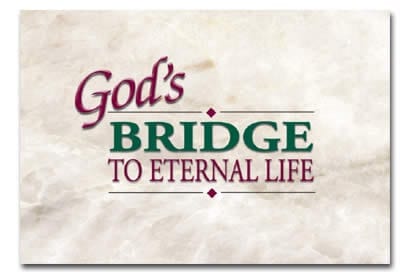 1. God's Purpose: Honor and Serve Him
GOD CREATED MAN TO HONOR, SERVE, AND FELLOWSHIP WITH HIM. THE BIBLE SAYS…
Revelation 4:11  "Thou art worthy, O Lord, to receive glory and honour and power: for thou hast created all things, and for thy pleasure they are and were created."I Corinthians 10:31  "Whether therefore ye eat, or drink, or whatsoever ye do, do all to the glory of God."Psalm 16:11  "Thou wilt show me the path of life: in thy presence [is] fulness of joy; at thy right hand [there are] pleasures for evermore."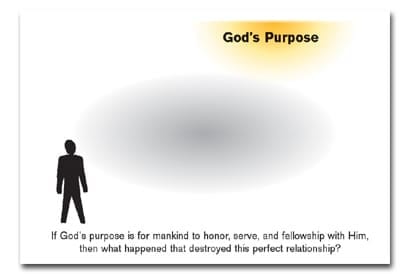 2. Mankind's Problem: Sin
MAN CHOSE TO SIN AGAINST GOD RATHER THAN SERVE HIM. THE BIBLE SAYS…
Romans 3:23  "For all have sinned and come short of the glory of God."What does it mean to sin against God?Whosoever committeth sin transgresseth also the law: for sin is the transgression of the law. (I John 3:4)We sin by doing what God has commanded us not to do or by not doing what God has told us to do.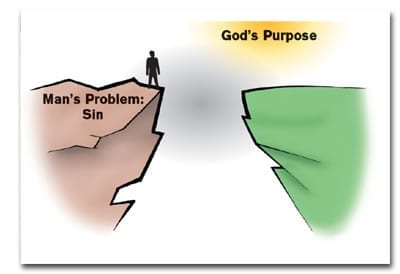 THE BIBLE SAYS…
Romans 6:23  "For the wages of sin is death; but the gift of God is eternal life through Jesus Christ our Lord."When man chose to disobey God, the result was death. The basic meaning of death is separation. The Bible teaches that there are three types of death, or separation, that result from sin.And you hath he quickened, who were dead in trespasses and sins; (Ephesians 2:1)And as it is appointed unto men once to die, but after this the judgment: (Hebrews 9:27).But the rest of the dead lived not again until the thousand years were finished. This is the first resurrection. (Revelation 20:5).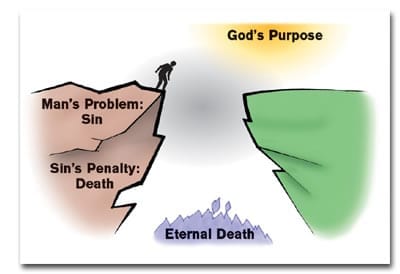 4. Then how can we ever have eternal life?
THROUGHOUT HISTORY INDIVIDUALS HAVE TRIED MANY WAYS TO GAIN OR EARN ETERNAL LIFE, BUT EVERY ATTEMPT HAS BEEN UNSUCCESSFUL.THE BIBLE SAYS…
Proverbs 14:12  "There is a way which seemeth right unto a man, but the end thereof are the ways of death."
Titus 3:5  Not by works of righteousness which we have done, but according to his mercy he saved us, by the washing of regeneration, and renewing of the Holy Ghost
Ephesians 2:8-9  "For by grace are ye saved through faith; and that not of yourselves: it is a gift of God: Not of works, lest any man should boast."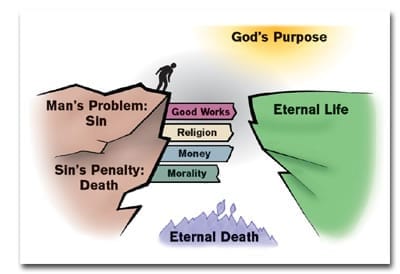 5. Christ's Payment: Our Sinless Substitute
JESUS CHRIST, GOD'S SINLESS SON, WAS SENT BY THE FATHER TO PAY THE PENALTY FOR OUR SINS BY DYING ON THE CROSS IN OUR PLACE.THE BIBLE SAYS…
Romans 5:8  "But God commendeth His love toward us, in that, while we were yet sinners, Christ died for us."
I Peter 3:18  For Christ also hath once suffered for sins, the just for the unjust, that he might bring us to God, being put to death in the flesh, but quickened by the Spirit:
THEN HOW DO WE CROSS THE BRIDGE TO ETERNAL LIFE?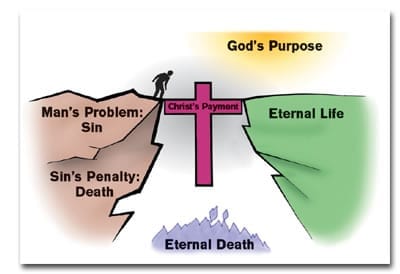 6. Our Pardon: Turn and Trust
HOW DO WE CROSS THE BRIDGE TO ETERNAL LIFE? WE MUST RECEIVE JESUS CHRIST AS OUR LORD AND SAVIOR.JESUS HIMSELF SAID…
John 14:6  Jesus saith unto him, I am the way, the truth, and the life: no man cometh unto the Father, but by me.
IN ORDER TO RECEIVE JESUS CHRIST AS LORD, YOU MUST REPENT OF YOUR SINS AND PUT YOUR TRUST IN JESUS CHRIST ALONE AS THE ONLY HOPE OF ETERNAL LIFE. THE BIBLE SAYS…
Acts 3:19  Repent ye therefore, and be converted, that your sins may be blotted out, when the times of refreshing shall come from the presence of the Lord;
Acts 16:31   And they said, Believe on the Lord Jesus Christ, and thou shalt be saved, and thy house.
Romans 10:13  "For whosoever shall call upon the name of the Lord shall be saved."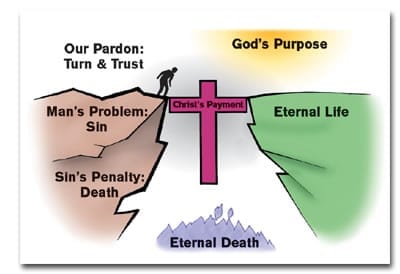 7.  God's Promise: Eternal Life
JESUS CHRIST SAID,
John 5:24  "Verily, verily, I say unto you, He that heareth My word, and believeth on Him that sent Me, hath everlasting life, and shall not come into condemnation; but is passed from death unto life.
"THIS VERSE HAS ONE PROMISE WITH THREE PARTS.
The person who believes:
Has Eternal life.
Does not come into judgment.
Has passed from death into life.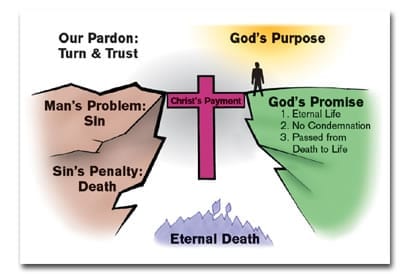 What is Life About?
What is life? What makes living significant?  Our relationships with each other? Our relationship with our creator? I love Rick Warren's book, "The Purpose Driven Life".  Here are some thought-provoking points that he shares about our purpose for living:
CONNECT: You were formed for God's family
GROW: You were created to become like Christ
SERVE: You were shaped for serving God
SHARE: You were made for a mission
WORSHIP: You were planned for God's pleasure
If you feel you are searching for a connection like this in your own life, there are three great resource links on the right that will help you learn more about a personal relationship with Jesus and how God loves you and has a plan and a purpose for your life.