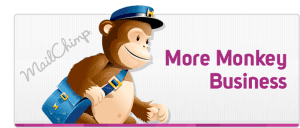 We have 1.2 million users in 158 countries. That's quite a growth curve since going freemium in 2009 w/100k users.
Those MailChimp users upload an average 472,000 images per day.
We serve about 115 million of those images per day (using about 3.5TB of daily bandwidth)
Currently, we run MailChimp on 117 servers. 134 total, counting all our different services and products.
We send between 80-100 million emails per day (using 3.29TB of bandwidth per day)
Our servers track an average 20,305,881 email opens per day.
We track over 4 million clicks per day

On a typical day, roughly 5,000 new users sign up for MailChimp.
We deliver about 2 billion emails per month. We delivered 2.3 billion emails in December…
…and we're ramping up TinyLetter, MailChimp Embed, and Mandrill,  so that volume will just keep growing this year.
When a fresh new user uploads a list into MailChimp, we've already seen roughly 52% of his email addresses in another list. The sheer depth and breadth of our network allows/obligates us to work on predicting email engagement and abuse (related: Our Email Genome Project).
5.8 million email addresses subscribe to MailChimp customers' lists each day.
7,478 new lists are created each day in MailChimp
The MailChimp API handles over 13 million calls per day for all the various integrations out there. Related: Even more MailChimp API stats
Our design-savvy users generate approximately 500 Litmus-powered inbox inspections each day. Each "inspection" results in a couple dozen screenshots of email apps, spam filters, and mobile devices.
We track 8 million eepurl clicks per month (we generate this shortened URL for every campaign, which is used when sharing on social networks).
Our constantly-evolving anti-abuse systems help us detect and shut down about 400 accounts per day, and prevents between 125-500 fraudulent/scam/phishing email campaigns from being delivered each week.
Our support team currently handles about 1,700 requests (aka "tickets") per day from users. Just last week, the number of live chats finally surpassed the number of emails. The average chat duration is 17 minutes, 26 seconds. Our focus is on quality of response, not reducing chat time–we're actually quite chatty and friendly (when asking for these stats from Bill, our head of support, I got this quotable: "I'd much rather they answer quickly than hang up quickly"). Related: our customer support dashboard
We have 114 employees. For anybody tracking our Pizzanomics, we're up to 35 pizzas now (plus wings and breadsticks).
Incredible numbers regarding MailChimp's growth and utilization each day.
.