Here is an inspiring list that the local newspaper shared.  It highlights some amazing people that have been selected over the years to be recognized and honored as West Virginian's of the Year.  The list goes from 2016 all the way back to 1951.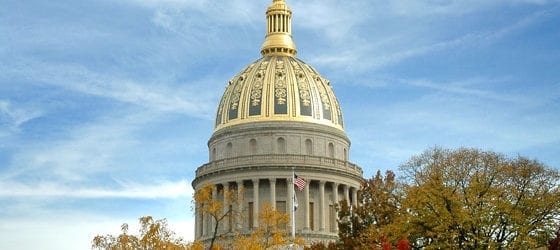 2016 – SYLVIA MATHEWS BURWELL, Summers County native who worked with Presidents Clinton and Obama on groundbreaking policy such as the Affordable Care Act.
2015 – KATHERINE JOHNSON, Greenbrier County native who received the Presidential Medal of Freedom for her work on the American space program.
2014 – DONORS, ORGANIZERS and VISIONARIES who created the huge national Boy Scout complex in Fayette Country, a major attraction for West Virginia and Scouts.
2013 – U.S. SEN. JAY ROCKEFELLER, winding down his long, long career of conscientious, honorable public service to West Virginia.
2012 – DR. DAN FOSTER, Charleston physician and state senator who works endlessly for medical cost reform.
2011 – LANDAU MURPHY, Logan County singer who won $1 million in the nationwide "America's Got Talent" competition and became a popular image of West Virginia.
2010 – GEN. ALLEN TACKETT, retiring after a long career of leading and improving the West Virginia National Guard.
2009 – JIM JUSTICE, former coal operator who bought The Greenbrier resort out of bankruptcy.
2008 – BETTY SCHOENBAUM, Charleston philanthropist, for her many gifts enhancing life in the state capital.
2007 – JENNIFER GARNER, actress, for her dedication, her work ethic and for being a role model and ambassador for West Virginia.
2006 – DAVID HARDESTY, president of WVU, who announced his retirement after leading the university in growth over 11 years.
2005 – WEST VIRGINIA SOLDIERS serving, fighting and dying in Iraq and Afghanistan, and their burdened families at home.
2004 – CHARLIE JONES, longtime West Virginia barge and coal operator, providing jobs through one of the state's few home-based corporations.
2003 – PFC JESSICA LYNCH, of Wirt County, who became America's hero after she was severely wounded, captured and then rescued in Iraq fighting.
2002 – SEN. ROBERT C. BYRD, a courageous lone voice resisting the plunge to unnecessary war in Iraq.
2001 – WEST VIRGINIA NATIONAL GUARD, for a year of duty against floods, forest fires and terrorism.
2000 – JOHN CHAMBERS, Charleston native, president and chief executive officer of Cisco Systems Inc.
1999 – COACH BOB PRUETT and the MARSHALL UNIVERSITY FOOTBALL TEAM, who capped a 12-0 regular season with a victory in the Motor City Bowl.
1998 – ADM. THOMAS JOSEPH LOPEZ, of Powellton, Fayette County, one of just two Navy enlisted men who rose to four-star admiral.
1997 – ELIZABETH HALLANAN, one of America's few female federal judges, who reformed child support and voided a state plan for government-sponsored religion in schools.
1996 – GASTON CAPERTON, upon completing two terms as a successful, progressive governor, whose tenure brought economic growth and few scandals.
1995 – ROBERT C. FRASURE, from Morgantown, a deputy assistant secretary of state killed while trying to negotiate peace in Bosnia's civil war.1994 – HENRY LOUIS GATES JR., Harvard professor and author of the book "Colored People."
1993 – WEST VIRGINIA UNIVERSITY FOOTBALL TEAM, which went unbeaten in the regular season and won its first Big East championship.
1992 – LYELL and BUCKNER CLAY, HAZEL RUBY McQUAIN, CHARLIE ERICKSON, JOAN C. EDWARDS and other philanthropists; "The Givers" who support West Virginia projects.
1991 – SEN. JAY ROCKEFELLER, legislator, secretary of state, governor and U.S. senator.
1990 – SEN. ROBERT C. BYRD, chosen a third time for bringing billions of dollars worth of federal projects to West Virginia.
1989 – MICHAEL CAREY, U.S. attorney who cleaned up corruption in Mingo County and state government.
1988 – DON NEHLEN, football coach who led WVU to an 11-0 season.
1987 – ROBERTA EMERSON, curator who greatly expanded Huntington Museum of Art.
1986 – DALE NITZSCHKE, president of Marshall University, leader in imaginative educational concepts.
1985 – LOUISE McNEIL PEASE, from Pocahontas County, state poet laureate.
1984 – MARY LOU RETTON, from Fairmont, Olympic gold medalist in gymnastics.
1983 – JAMES "BUCK" HARLESS, Mingo County lumber and coal mogul, philanthropist.
1982 – ARTHUR RECHT, Wheeling circuit judge who mandated equality between rich and poor school systems.
1981 – SHARON ROCKEFELLER, public broadcasting advocate, wife of Sen. Jay Rockefeller.
1980 – CHARLES PETERS JR., from Charleston, former legislator, publisher of The Washington Monthly.
1979 – MAURICE G. BROOKS, WVU biologist, author of four books on mountain wildlife.
1978 – MARY LEE SETTLE, from Charleston, renowned novelist, winner of National Book Award.
1977 – SEN. ROBERT C. BYRD, chosen again after he attained national power as Senate majority leader.
1976 – JAMES DAVID BARBER, Charleston native, Duke University political scientist, author of books on presidency.
1975 – DR. JAMES HARLOW, physicist, 16th president of West Virginia University.
1974 – SEN. ROBERT C. BYRD, who rose from Raleigh County poverty to leadership in Congress.
1973 – ARNOLD MILLER, Cabin Creek disabled miner, elected president of the United Mine Workers after crusading against union corruption.
1972 – ARCH A. MOORE JR., 28th governor, dynamic in his first term.
1971 – DR. JOHN C. NORMAN, Charleston-born surgeon and medical researcher.
1970 – WILLIAM T. BROTHERTON JR., of Charleston, state senate president, creator of the Legislature's corruption-probing commission.
1969 – DR. DANIEL HALE, Princeton physician and conservationist, created flood control dam and safe water supply.
1968 – PHYLLIS CURTIN from Clarksburg, GEORGE CRUMB JR., from Charleston, opera soprano and composer.
1967 – THE REV. HILARION CANN, BISHOP FRED HOLLOWAY, RABBI SAMUEL COOPER and BISHOP WILBURN CAMPBELL, four state leaders in church efforts for civil rights.
1966 – WALTER F. REUTHER, United Auto Workers president, born in Wheeling.
1965 – THE REV. LEON SULLIVAN, Charleston-born civil rights leader, created job training for blacks, planned phase-out of apartheid in South Africa.
1964 – SEN. JENNINGS RANDOLPH, member of Congress since the 1930s, chief author of Appalachian Regional Commission.
1963 – CYRUS VANCE, veteran U.S. diplomat, later secretary of state.
1962 – PEARL S. BUCK, Nobel Prize-winning author, born in Pocahontas County.
1961 – CHARLES HODEL, orphan who lost a leg, became dynamic publisher of Beckley newspapers.
1960 – FRED OTTO, Kanawha Valley civic leader, manager who helped save the DuPont Belle plant from phase-out.
1959 – JERRY WEST, SAM HUFF, West Virginia basketball and football heroes.
1958 – WILLIAM J. THOMPSON, Kanawha circuit judge, advocate of probation.
1957 – MICHAEL L. BENEDUM, "the Great Wildcatter," Bridgeport native, oil millionaire, philanthropist.
1956 – JOHN D. HOBLITZELL JR., of Parkersburg, education leader, appointed U.S. senator.
1955 – LEONARD RIGGLEMAN, longtime president of Morris Harvey College (now University of Charleston), moved the school from Barboursville to Charleston.
1954 – GEN. CHARLES E. YEAGER, from Lincoln County, World War II air hero and test pilot, first to break the sound barrier.
1953 – ADM. FELIX B. STUMP, from Parkersburg, commander of Navy's Pacific Fleet.
1952 – WALTER S. HALLANAN, former Huntington Herald-Dispatch editor, state official, oilman, chairman of 1952 Republican National Convention.
1951 – OKEY L. PATTESON, 23rd governor, chief creator of the West Virginia Turnpike.
Via: Daily Mail News