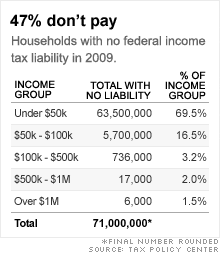 Most people think they pay too much to Uncle Sam, but for some people it simply is not true.
An increasing number of households end up owing nothing in major federal taxes, but the situation may not be sustainable over the long run.
In 2009, roughly 47% of households, or 71 million, will not owe any federal income tax, according to estimates by the nonpartisan Tax Policy Center.
Some in that group will even get additional money from the government because they qualify for refundable tax breaks. The ranks of those whose major federal tax burdens net out at zero — or less — is on the rise.