via the State Journal
whoswhowinners2010.pdf (27 KB)
View this on posterous
What an incredible group of people. Only 7-8 people are selected for this honor each year.  It was a true privelege to be recognized in 2004 along side of so many other amazing leaders in West Virginia.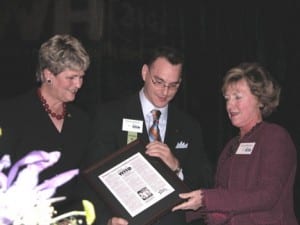 Secretary of State Betty Ireland (left) and West Virginia first lady Gayle Manchin present Paul Helmick, CEO of Premier Strategies, with a plaque recognizing his induction into the State Journal's Who's Who in West Virginia Business awards program, held Jan. 28, 2005.
Thanks to the State Journal for their great work in this regard!