State Journal "Who's Who in WV Business" Award Video
I've been blessed to have had my '15 minutes' of fame… And my advice is "treasure every minute" – because they soon pass and you have to get back to work!
Award presented by WV Secretary of State, Betty Ireland and Governor Joe Manchin's wife and WV First Lady, Gayle Manchin.
Heart-warming congratulations from some great, life-long friends business leaders in West Virginia
Thankful for so many good friends in business over the years.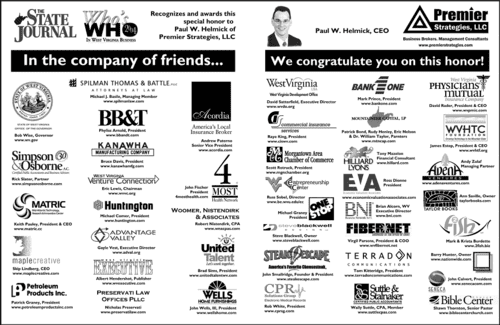 Heart-warming congratulations from some great, life-long friends business leaders in West Virginia

West Virginia Executive Magazine "Young Guns" Cover Story
Compilation of press coverage of CityNet (Paul Helmick, President & Co-Founder), and WV Venture Capital Connection (Paul Helmick, Acting Executive Director)